Mid-Autumn Treasures
24 August to 29 September 2023

This Mid-Autumn Festival, bask in the glow of the Harvest Moon with our artisanal mooncake collections. Classic flavours are refined with a modern touch, promising elegant celebrations that honour the tradition.

JADE SIGNATURES MOONCAKE COLLECTION
The Fullerton Hotel Singapore

Jade restaurant presents a selection of specially curated gift sets, elegantly packaged in signature boxes adorned with auspicious peonies and the magnificent peacock. Reduced sugar is used with the health-conscious in mind, simultaneously allowing the delicate flavours to shine.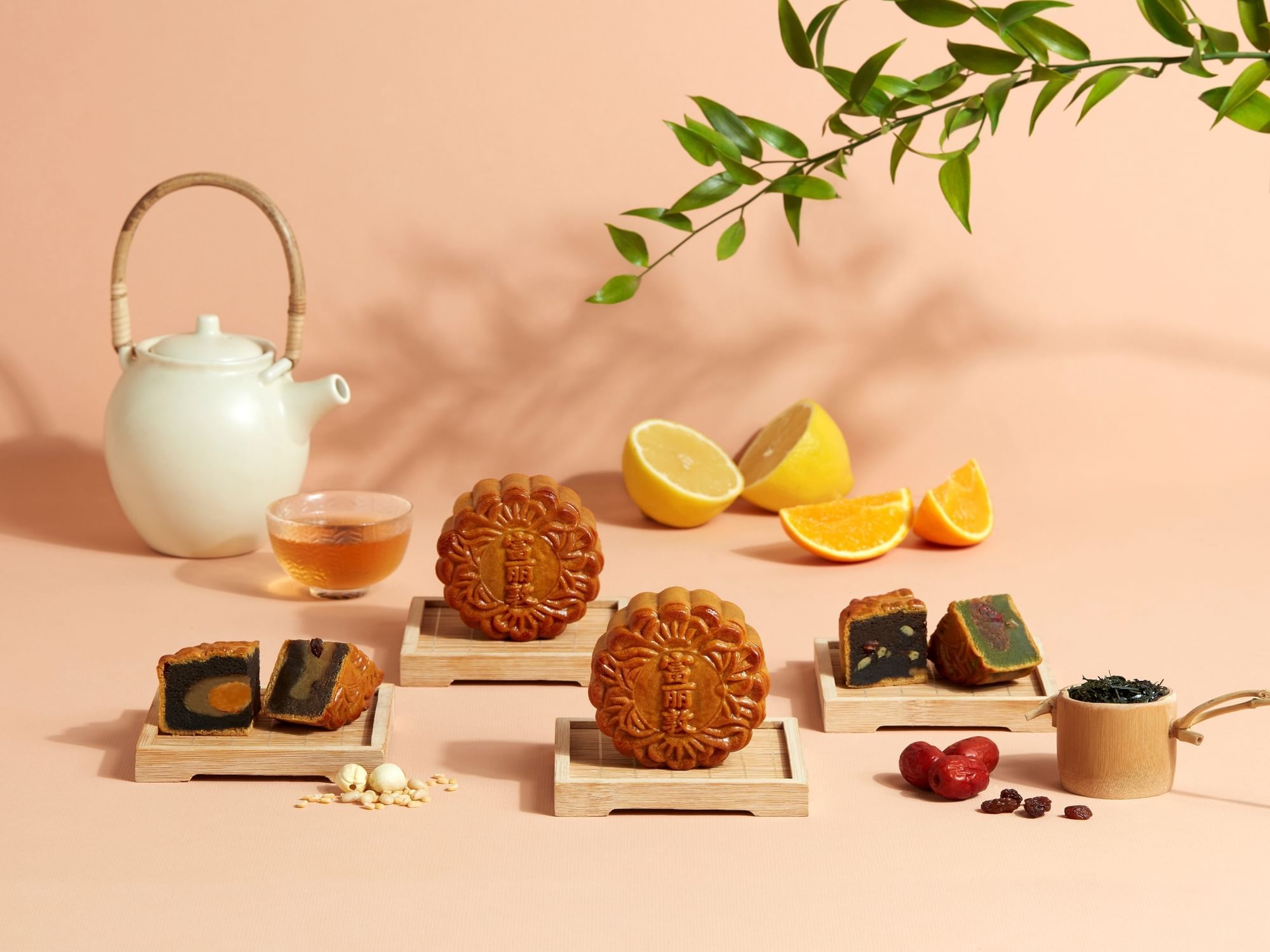 JADE SIGNATURES TEA SERIES BAKED MOONCAKES

Discover the new Jade Signatures Tea Series Baked Mooncakes, a quartet of elegant tea-infused flavours. Carefully crafted to draw out the complex aromas of roasted tea leaves, these subtly sweet creations are ideal for those who appreciate deeper, nuanced flavours in their mooncakes:
| Assam Tea with Lemon, Mung Bean and Raisin Baked Mooncake | Tie Guan Yin with Orange and Apricot Baked Mooncake |
| Green Tea with Multigrain Brown Sugar Baked Mooncake |
| Hongyu Black Tea Lotus Seed Paste with Pomelo, Red Date and Pine Nut Baked Mooncake |

SHOP NOW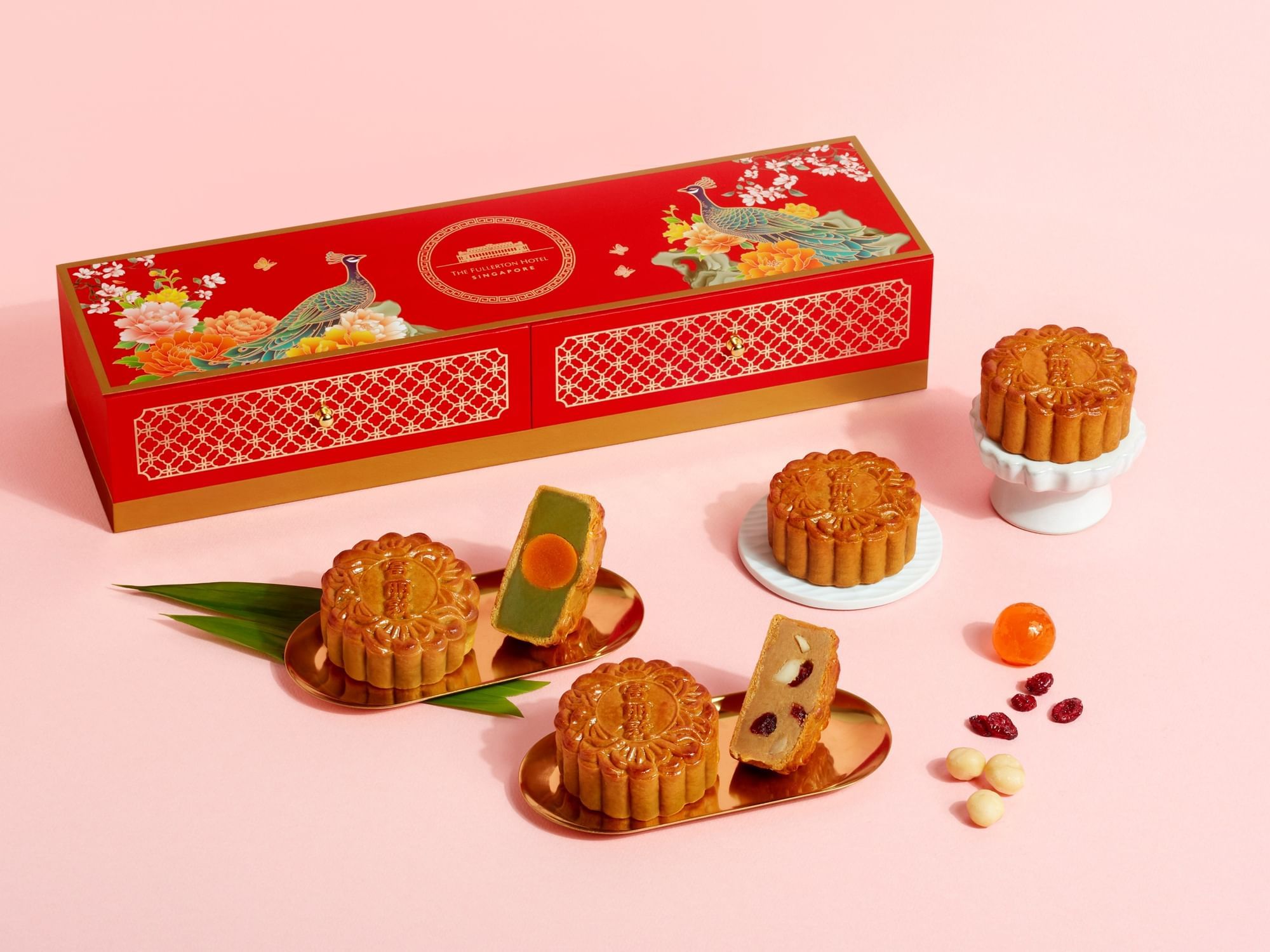 JADE SIGNATURES CLASSIC BAKED MOONCAKES

For the best of both worlds, the Jade Signatures Classic Baked Mooncakes introduces two refreshing creations alongside the traditional single and double yolks mooncakes:
| Milk Lotus Seed Paste with Macadamia Nuts and Dried Cranberries Baked Mooncake |
| Mango Lotus Seed Paste with Pineapple and Melon Seed Baked Mooncake |
| Low Sugar Pandan Lotus Seed Paste with Single Yolk Baked Mooncake |
| Low Sugar White Lotus Seed Paste with Double Yolks Baked Mooncake |

SHOP NOW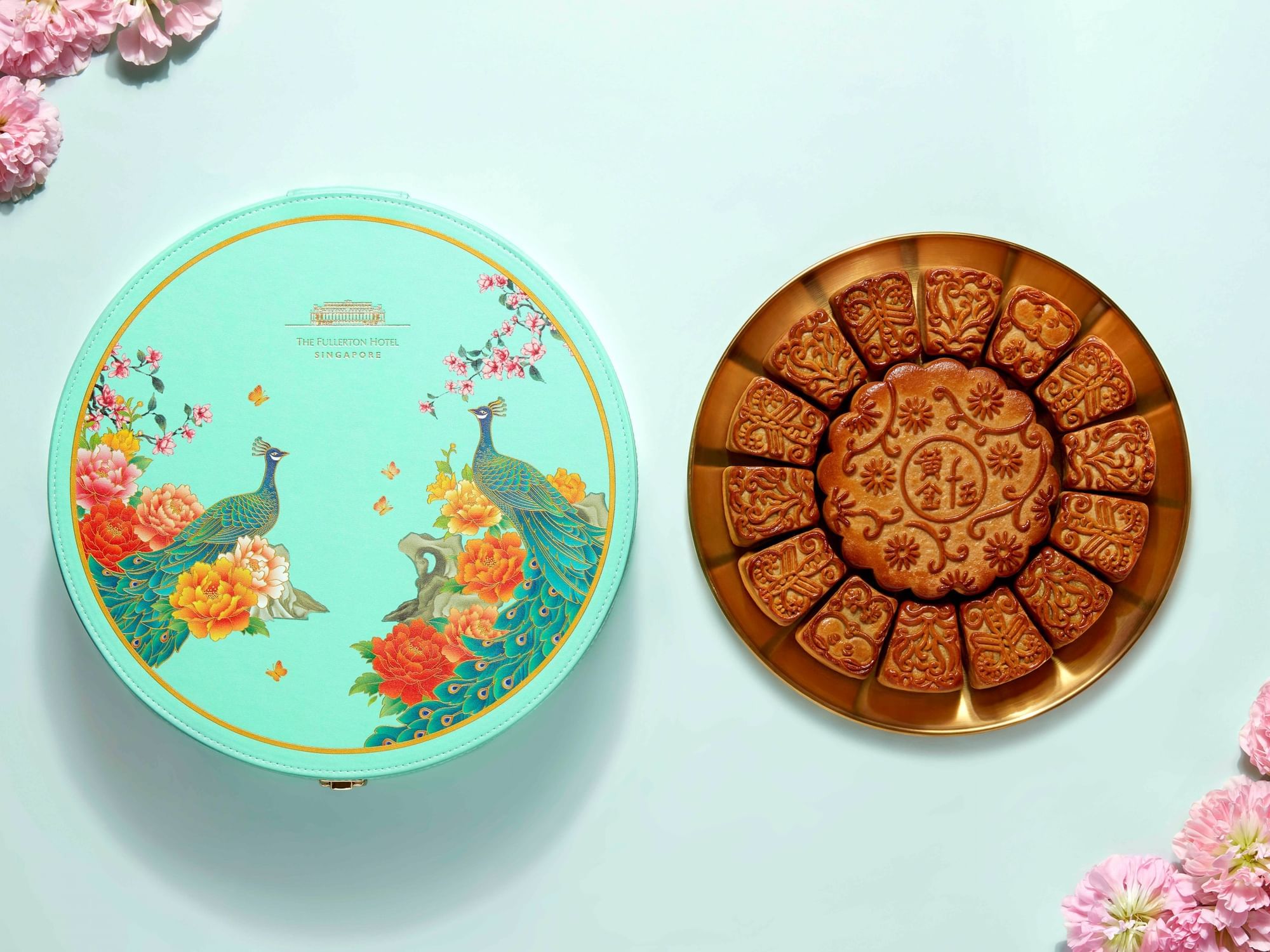 THE FULLERTON 15 TREASURES PREMIUM GIFT SET

Make a meaningful impression with The Fullerton 15 Treasures Premium Gift Set. This limited-edition signature set holds a giant baked mooncake at its heart, filled with white lotus seed paste and eight golden yolks — symbolising the full moon on the 15th day of the eighth lunar month.

14 smaller baked mooncakes encircle this centrepiece, each in different flavours such as black sesame, almond, jasmine, osmanthus, and red lotus seed paste. Their crusts depict alternating figures of a celestial hare, citron fruit and firefly to signify bliss, light and well wishes.

SHOP NOW

---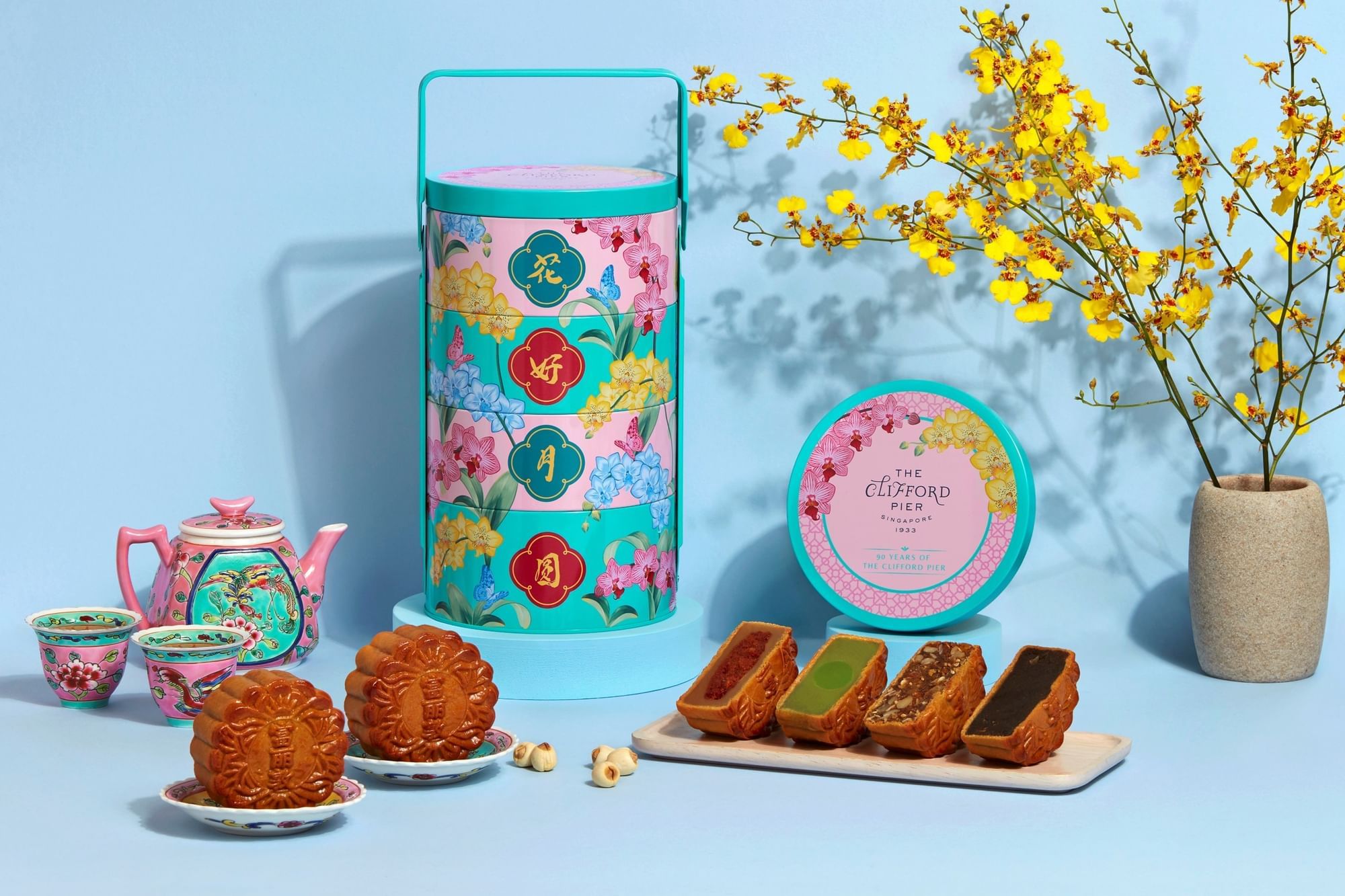 THE CLIFFORD PIER MOONCAKE TINGKAT (90TH ANNIVERSARY EDITION)
The Fullerton Bay Hotel Singapore

The Clifford Pier Mooncake Tingkat (90th Anniversary Edition) is an ode to the bustling hawker scene that surrounded Clifford Pier in days of yore. To commemorate the pier's 90th anniversary this year, the custom-designed tiffin carrier draws inspiration from our Garden City with orchid and butterfly embellishments alongside Chinese calligraphy-style characters.

Each tiffin carrier contains four baked mooncakes in signature flavours that reflect Singapore's diverse hawker cuisine:
| Mixed Nuts with Satay Peanut Sauce Baked Mooncake | Salted Lotus with Hae Bee Hiam Baked Mooncake |
| Assam Lotus with Mango Baked Mooncake | Pandan Coconut with Chendol Baked Mooncake |

SHOP NOW

---

For advance corporate / bulk purchases, please contact The Fullerton Cake Boutique at (65) 6877 8943, email fullertonshop@fullertonhotels.com or visit our online store at shop.fullertonhotels.com.