A Bountiful Feast
Jade, The Fullerton Hotel Singapore
17 January to 15 February 2022
The Year of the Tiger gets off to a roaring start with a resplendent feast of Chinese culinary treasures, presented by Chinese Executive Chef Leong Chee Yeng. Intended for warm reunions with one's closest kin, the menu showcases nourishing dishes for families to start the year on a strong note.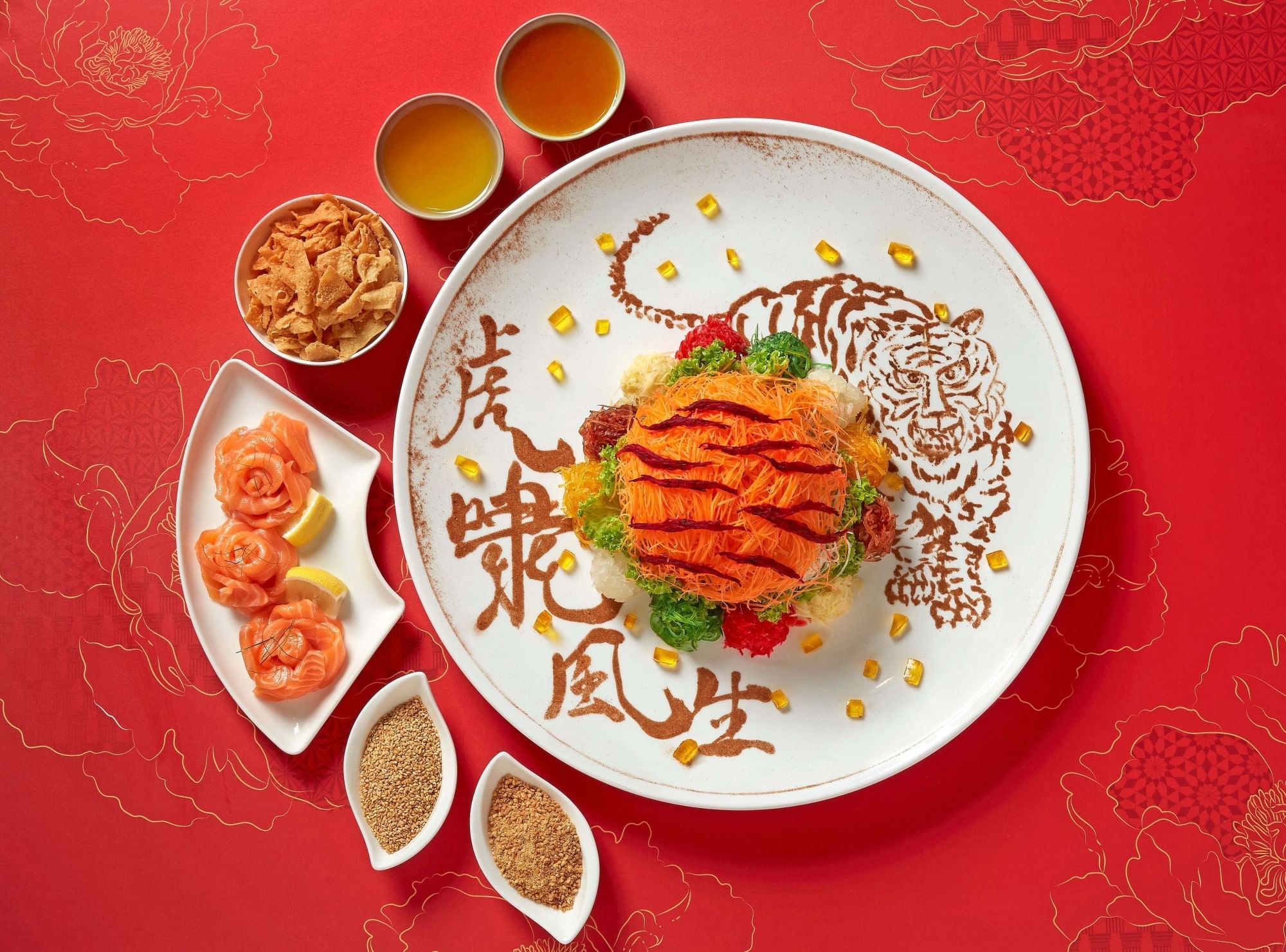 Gold Rush Salmon Yu Sheng
The quintessential starter for auspicious feasting is the Premium Gold Rush Salmon Yu Sheng, arranged into an endearing image of a playful tiger. Champagne jelly, shallot oil and kumquat dressing elevate the fresh ingredients, achieving a balance of rich and refreshing flavours. The Gold Rush Salmon Yu Sheng is a visual delight too; presented alongside a hand-drawn tiger motif and an auspicious Chinese calligraphy greeting, a signature finishing touch by Chef Leong.
The Cornucopia of Wealth delivers a lavish pen cai experience in individually portioned vessels. Each serving contains a bounty of braised delicacies, including abalone, fish maw, sea cucumber, flower mushrooms, dried scallop, stewed pork trotter, fried Phoenix Claw and yam. For larger groups, dine on the Premium Braised Pen Cai which requires a one-day advance order. It contains Ten-head South Africa whole abalone, fish maw, sea cucumber, dried scallops, braised pork trotter, dried oysters, flower mushrooms, roasted duck, diced chicken, diced giant grouper, prawn, fresh bean curd stick, yam, lotus root, Chinese cabbage, leek, chestnut, and pork tendon.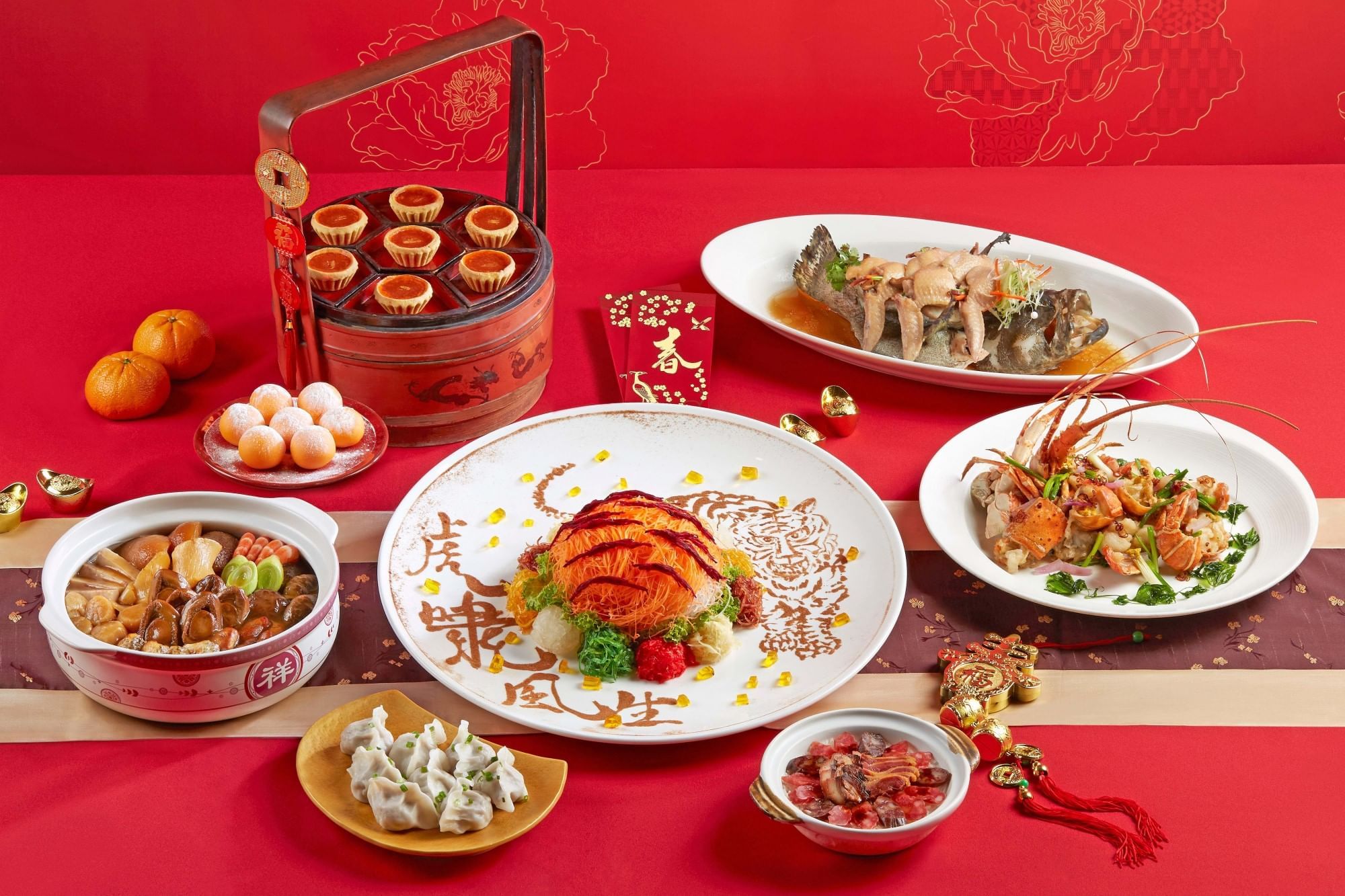 No traditional Lunar New Year feast is complete without fresh seafood. Chef Leong's new Wok-fried Local Lobster with Tomato, Egg and Rice Wine showcases the sweetness of fresh lobster in the nostalgic comfort dish, alongside his savoury new Steamed Tiger Grouper with Minced Ginger and White Wine, topped with Stuffed Chicken Wing, while the lightly charred Claypot Rice with Preserved Meat delivers a satisfying conclusion to round off the mains.
Complete the feast with a sweet finale of nourishing Hot Cream of Almond with Bird's Nest accompanied with Sweet and Spicy Peanut Muah Chee, a luxurious take on the classic dessert and an ode to good health. This year's assortment of New Year goodies includes the new Steamed Osmanthus Nian Gao and Deep-fried Rose Water Chestnut Cake — classic Lunar New Year desserts elevated with delicate floral notes.
The Gold Rush Salmon Yu Sheng with Champagne Jelly, Shallot Oil and Kumquat Dressing is priced at from S$118* (medium, portion, suitable for 5 to 7 persons) and S$138++ (large portion, suitable for 8 to 10 persons). The Premium Year of the Tiger Gold Rush Yu Sheng is priced at S$688* with a minimum of 3 days' advance order.
For families who wish to celebrate at home, enjoy a selection of gourmet takeaways at shop.fullertonhotels.com.
Terms and Conditions
Prices are subject to 10 percent service charge and prevailing government taxes.
Not valid in conjunction with other offers, promotions or discounts.
Discounts are not applicable to service charge.
Reservations are recommended. For assistance, please contact our Dining Reservations team at +65 6877 8911/8912 or email to dining-rsvp@fullertonhotels.com.
The Hotel reserves to right to alter or terminate its offers without prior notice.