Local Attractions
The Fullerton Hotel Sydney is located close to some of the most spectacular local attractions in Sydney. Enjoy the exceptional experiences and attractions that Sydney has to offer.
Art Gallery of New South Wales
The Art Gallery of New South Wales is the premier museum of art in New South Wales and one of Australia's foremost cultural institutions. It displays Australian, European and Asian art collections on a permanent basis and presents a myriad of exhibitions each year.
Opening Hours:
Every day, 10.00 a.m. – 5.00 p.m.
Wednesdays until 10.00 p.m. for Art After Hours
Address:
Art Gallery Road, The Domain, Sydney NSW 2000, Australia
Contact No.: 1800 679 278
Website: https://www.artgallery.nsw.gov.au/
Blue Mountains
Experience the great outdoors as you leave Sydney behind and enter the magical Blue Mountains region. Located approximately two hours from the city, the Blue Mountains is perfect for a day trip. Enjoy bushwalking, art galleries, wildlife parks, shopping, dining experiences and all that nature has to offer.
Website: https://www.bluemts.com.au
Bridge Climb
Go on a guided climb to the top of the world-famous Sydney Harbour Bridge, 134 metres above Sydney Harbour. The guided experiences take up to 3.5 hours each and depart at scheduled intervals from dawn to late at night.
Website: https://www.bridgeclimb.com/
Harbour Cruises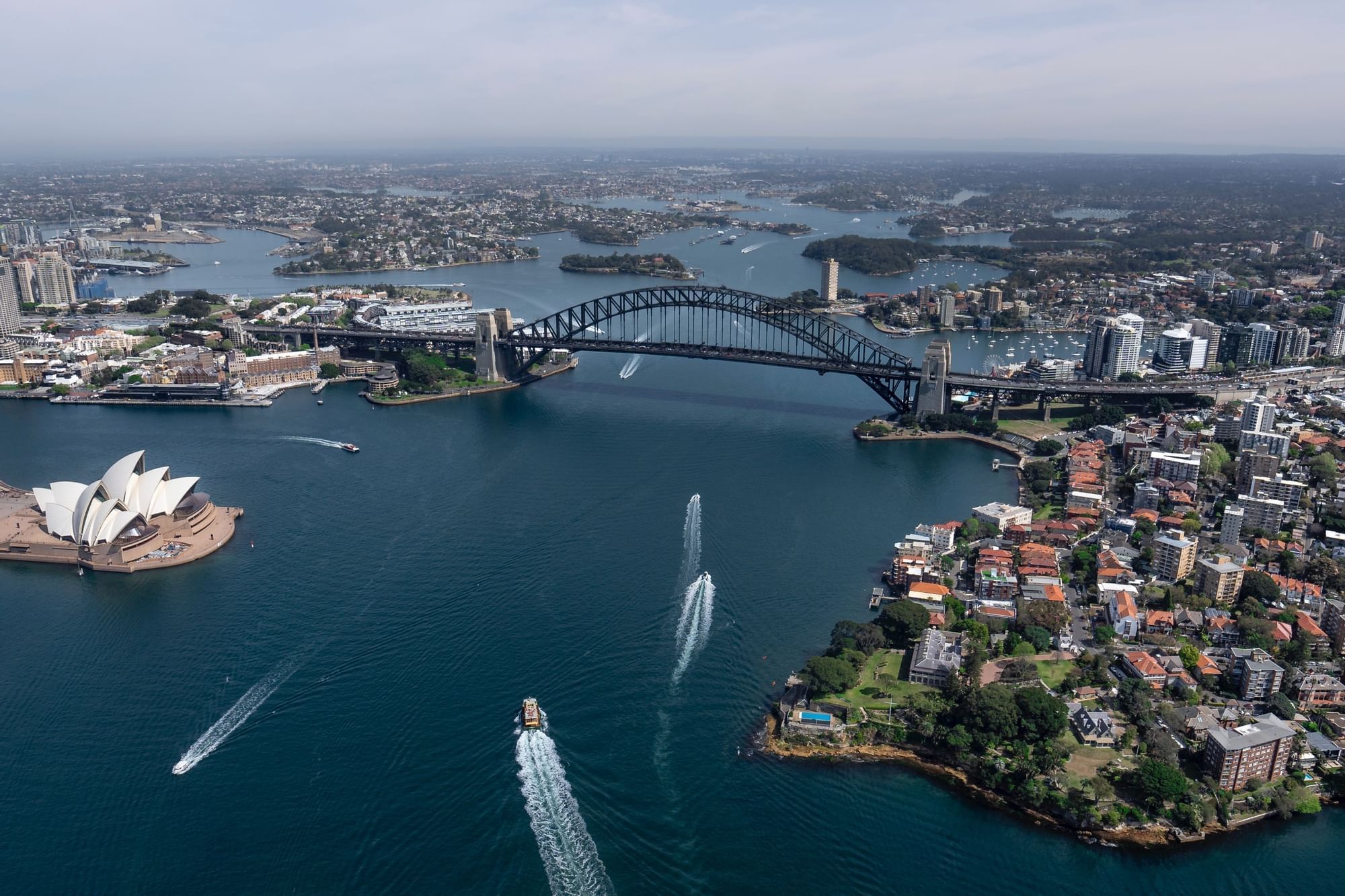 Enjoy a memorable day on the spectacular waters of Sydney Harbour. Whether you prefer the adrenaline rush of jet boating, an informative cruise with personalised commentary or a private chartered vessel, there is a variety of options to choose from.
Hunter Valley Wine Region
Wine and food connoisseurs will enjoy a visit to the Hunter Valley Wine Region, located approximately two hours' drive north of Sydney. The Hunter Valley has more than 120 cellar doors to choose from, along with restaurants, galleries and championship golf courses. Personalised tours of the vineyards are available to give you a "behind the scenes" perspective on wine-making.
Contact No.: +61 2 49 900 900
Email: info@hvwta.com.au
Website: https://www.winecountry.com.au/
Sea Life Sydney Aquarium
The Sea Life Sydney Aquarium is located in Darling Harbour, which is a short stroll from The Fullerton Hotel Sydney. Here you will find a myriad of Australian aquatic life with over 12,000 species including sharks, rays, platypus, seals, fairy penguins and crocodiles.
Embark on a journey through one of the most impressive aquariums in the world and explore Australia's rich and diverse waterways, marine ecosystems and unique aquatic environments.
Opening Hours:
Open daily 10.00 a.m. - 6.00 p.m. (Last entry 5.00 p.m.)
Address:
Sea Life Sydney Aquarium
1-5 Wheat Road, Darling Harbour
Sydney 2000
Website: https://www.sydneyoperahouse.com
Shopping
For those in need of retail therapy, Sydney's Central Business District offers a wide variety of shopping options, from modern department stores located in the Pitt Street Mall to the charms of the shops in the historic Queen Victoria Building and the Strand Arcade. Alternatively, head to Oxford Street, Paddington to browse in the fashionable boutiques and specialty stores.
Sydney Beaches
Sydney is famous for its beautiful ocean and harbour beaches. The majority of Sydney's 37 beaches can be conveniently accessed via public transport from the city. Whether you prefer a child-friendly harbour beach or a surf beach such as the iconic Bondi and Manly Beaches, enjoy a great day outdoors in Sydney.
Sydney Opera House
Officially opened by Queen Elizabeth II on 20th October 1973, the Sydney Opera House is one of the most beautiful buildings in the world and has become the icon for modern Sydney. It is Australia's premier cultural centre for opera, ballet, theatre and music, and houses five theatres and various restaurants and bars. Guided tours are available daily.
General Enquiries:
Contact No.: +61 2 9250 7777 (Monday to Friday, 9.00 a.m. – 5.00 p.m.)
Email: infodesk@sydneyoperahouse.com
Taronga Zoo
Enjoy a close-up experience with some of Australia's unique wildlife at Taronga Zoo. A scenic 12-minute ferry ride from Circular Quay to Taronga Zoo is the most convenient form of transport.
Opening Hours:
9.30 a.m. - 4.30 p.m.
Taronga is open every day of the year, including Christmas Day.
Website: https://taronga.org.au/sydney-zoo